Hungary is first to send doctors to South Sudan
Szerző: Főadmin Bejegyzés: 2014. január 15., szerda 16:15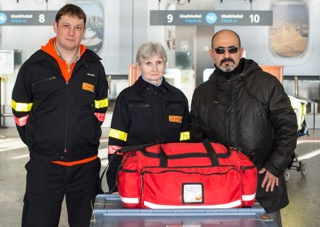 The diplomat recalled that in South Sudanat the end of last year, because of political disagreements, an internal armed conflict broke out. In the middle of December 2013, an unsuccessful coup attempt burst out. The government forces got the upper hand in the capital within a short time, but in the countryside there are military clashes even today. Mr. Kveck also added that according to estimates there were 1,500 to 2,000 people who died, in addition to the people who were injured or had to flee.
The Ambassador emphasized that South Sudan is a very young state, which became independent in 2011. Its infrastructure is in very bad condition. He also talked about the several connections that it has with Hungary, for example,some of the South Sudanese leaders graduated in Hungary during the 70's and 80's, like Joseph Bol Chan, Chairman of the upper house of South Sudan parliament, who speaks excellent Hungarian. He noted that the visibility and reputation of Hungary is very good in the African region, and this connection justified the assistance.
The workers of Hungarian Baptist Aid (HBAid) arrived after the incidents to Juba to help. Peter Kveck highlighted that Hungary was the first country that helped South Sudan by sending doctors and medicines. On Tuesday morning, the country's Minister of Public Health welcomed the group and said that they greatly appreciate the aid.
Two doctors – a pediatrician and an anesthetist – arrived to Juba from HBAid. The team brought 4 containers of medicines, a medical device and an instrument. Presently, they are working at the central hospital in the capital.
The Ambassador communicated that the team is going to stay in South Sudan for ten days, but they may be followed by other Hungarian doctors, as the team's task is also to assess the current needs. Based on their experiences, they will decide how many doctors are needed and for how long, as well as what equipment needs to be sent.
In South Sudan, according to conservative estimates, when the bloodshed started on December 15th, there were thousands of people who lost their lives, and the UN reported that at least 200 thousand people became homeless because of the violence.
KAPCSOLÓDÓ HÍREINK
Love without borders
Workers of HBAid in Tacloban again
Five months after the typhoon in Tacloban (Philippines) and its surrounding areas, Hungarian Baptist Aid (HBAid) is rebuilding a school and a kindergarten that were damaged, distributing water purification systems for families, and helping injured children.