World Day against Human Trafficking
Szerző: Főadmin Bejegyzés: 2014. október 17., péntek 10:23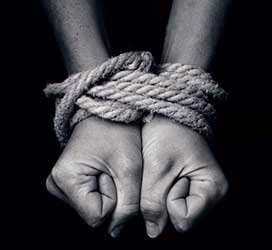 These people are being held by blackmail, threats, and their fundamental human rights are trampled upon. This could be sexual exploitation or forced marriage, forced labour, put to begging or homeless people held in household slavery. Whatever form their problem takes, the victims are living amongst us, perhaps in our immediate environment, or even in our own neighbourhood. Many of them are probably producing a lot of the goods and services that we use every day. We can meet them at almost every turn. Perhaps they made the mobile phone, on which we talk daily or maybe they have sewn the shirt, which we wear or even work in the kitchen of the restaurant where we go after work. These things will continue to happen right in front of our eyes, until our eyes are opened.
For more than a decade Baptists have dedicated themselves to the fight against human trafficking. Today, we run many sheltered homes and reintegration houses, where victims of trafficking can feel safe and where experts facilitate healing and rehabilitation. In addition, through prevention programs run in schools, students are alerted to the dangers of human trafficking. Our organization is the only NGO member of the National Coordination Mechanism managed by the Ministry of Domestic Affairs. Permanent members are the National Police Department-ORFK, the KR National Bureau of Investigation (Hungarian FBI), the IOM (International Organization for Migration) and a number of international non-governmental organizations (A21, Lefo - A, City Hearts - UK, Venice Municipality - I) and police (e.g. Holland, Switzerland). Our staff works every day of the week and at all hours of the day to help victims.
October 18th is the International Human Trafficking Awareness Day in the European Union. On this day we remember both those who have been and those who are being exploited against their will and denied their human rights.
KAPCSOLÓDÓ HÍREINK
Balatonföldvár-Roma Bible School
Balatonföldvár-Hungarian Baptist Aid organized a training for Roma pastors from September 24th-29th. The program will continue in January in the city by the lake.
'Anne Frank – History for Today' exhibition opened
On the afternoon of September 10th, 'Anne Frank – History for Today' travelling exhibition opened on the 70th anniversary of the Holocaust at Vendéglátó, Idegenforgalmi és Kereskedelmi Baptista Középiskola és Szakiskola (in English: Baptist Secondary School and Vocational School of Catering, Tourism and Trade).