Hungarian Baptists Didn't Detect Tension in North Korea
Szerző: Főadmin Bejegyzés: 2013. április 08., hétfő 14:24

The leader and pastor of Hungarian Baptist Aid prayed for Korean peace in Pyongyang, where they didn't see any sign of tension and mobilization. Last Friday in Beijing, pastor Sándor Szenczy informed the Hungarian News Agency (MTI) about the experiences of their North Korean trip. 
"They feel themselves threatened and squeezed and they talk about defense." –Sándor Szenczy said, referring to his North Korean attendants and those they met during their visit. "We haven't even thrown a stone at anybody. Then why are they threatening us?"-the North Koreans asked.
The pastor and his five Hungarian companions arrived in North Korea at the beginning of the week according to a previously coordinated visit. HBAid has contacted and offered help to a local organization for disabled people that was recently established.
"We were informed about the tension and the danger of war around the Korean peninsula mostly when we watched the news on BBC and Al Jazeera, satellite television channels, in the Korio Hotel in the capital."-said Sándor Szenczy. He also added that on Friday morning they learned, from some foreign passengers in cars with diplomatic license plates parking at the hotel, that the co-workers of Embassies were informed about a possible evacuation. 
The pastor said that they carried out their planned program undisturbed, and they also got to visit Panmunjom, the temporary border separating North from South.,  They arrived at Panmunjom with military accompaniment, differently from the former occasions. They didn't see any activity from the south side, and it was unusual that there weren't any soldiers. It was also unusual that the industrial Zone of Kaesong was silent.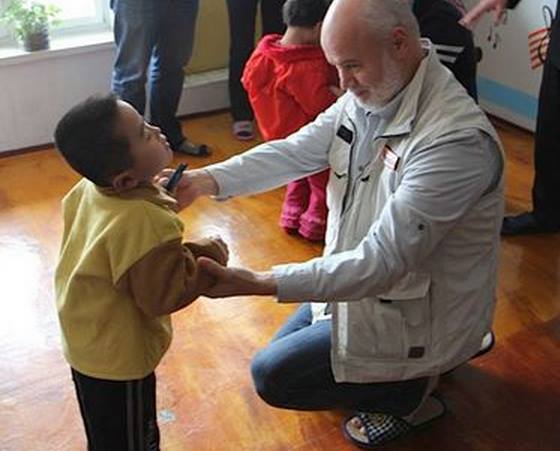 The Hungarian Baptist Aid has been visiting North Korea for ten years, and it was the very first time that their North Korean partner accepted their program to help with the rehabilitation of disabled people. Previously Pyongyang stated that there are no handicapped people in the country. 
The Hungarians plan is to train the co-workers of the local institution in the FLAME Program (Function, Language and Movement Education), the method HBAid developed based on the world-renowned Hungarian Pető Method which is built on conductive pedagogy. The leader of the delegation plans to return to the country with other professionals to do this in July .
The Hungarian delegation also visited the city of Sariwon where Hungarian doctors used to work at its hospital in the 1950's. At the Hungarian-Korean monument, on the courtyard of the hospital, Sándor Szenczy said a prayer for Korean peace.
Source: MTI – Hungarian News Agency
Translation: HBAid 
KAPCSOLÓDÓ HÍREINK
Love without borders
Workers of HBAid in Tacloban again
Five months after the typhoon in Tacloban (Philippines) and its surrounding areas, Hungarian Baptist Aid (HBAid) is rebuilding a school and a kindergarten that were damaged, distributing water purification systems for families, and helping injured children.